The history of St. Wulstan's, Bournbrook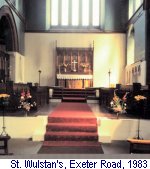 Originally founded as a mission church by St. Mary's, Selly Oak in 1893, St. Wulstan's was first located on the corner of Exeter Road in Bournbrook, Birmingham. By 1900, six services were being held in the church each Sunday, including weekly children's services.
After an initial period in a tin hut, the foundation stone of the church building was laid on St. Wulstan's day (19th January) 1906. The new church, which could accommodate up to 713 people, was consecrated on October 6th 1906, and was staffed by a curate-in-charge under the authority of the Vicar of St. Mary's. The first curate-in-charge was Edmund Arthur Haviland MA, who went on to become Vicar of St. Mary's in 1909, and became Archdeacon of Kimberley in South Africa in 1915.
On 15 August 1911, the Parish of St. Wulstan was formed by Order in Council.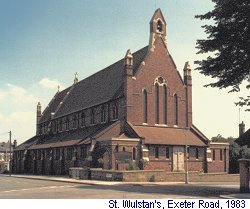 The first vicar of St. Wulstan's, from 1911 to 1924, was Frederick William Walker MA. He was the first of eight men to hold the post of Vicar of St. Wulstan's. During his incumbency, four curates spent time on the staff of the parish. These included Bernard William King, curate at St. Wulstan's from 1912 to 1917. He subsequently went on to join the staff of St. Patrick's, Birmingham, then early in 1918, with the permission of the Bishop, he joined the King's Royal Rifle Corps as a Rifleman, and was killed in October 1918, aged 30, less than a month before the end of the First World War.
Another two curates served in the parish during the incumbency of Frederick Clayton Hughes MA, between 1925 and 1935, but it was then another 29 years before St. Wulstan's final curate, Dr. Anthony Bird, joined the staff, during Charles Hervé's time as vicar.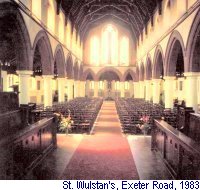 By the late 1970s St. Wulstan's was in decline, with a small but faithful congregation who were unable to maintain the substantial building, or to use it to best effect.
Radical solutions were needed to continue the mission to serve and witness to the community of Bournbrook.
In 1980, St. Wulstan's amalgamated with the parish of St. Stephen's, Selly Hill. This merger marked the end of an era in many ways for St. Wulstan's, as well as being the beginning of a new venture. The churchmanship of the parish had traditionally been Anglo Catholic, but the merger brought it into an Evangelical tradition. At the same time, a radical deal brought about a change of premises. The Elim Pentecostal Church in Selly Oak, which had been present in the area since the mid 1930s, had a small church building on Alton Road, built in the 1960s. They were in need of the extra space and the flexibility which a larger building could offer, whereas St. Wulstan's was seeking a smaller building which was easier to maintain. In 1983, the two churches swapped premises.
It is greatly to the credit of the congregation of St. Wulstan's that they accepted these substantial changes with such good humour and with unfailing faith and commitment.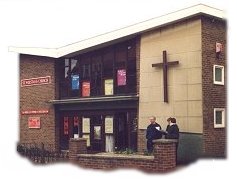 The congregation of St. Wulstan's held it's last service at Exeter Road on June 5th 1983, and the first service at Alton Rd. was held on June 12th 1983. The new building was dedicated by Rt. Rev. Hugh Montefiore, the then Bishop of Birmingham, on 16th June 1983.
Throughout the many changes, the congregation of St. Wulstan's has continued as a faithful and committed body of people.
St. Wulstan's today has a family feel. We include old and young, single and married, adults and children. Although we are located very near to the University of Birmingham, we are not specifically a 'student' church. We do, however, very much welcome students who wish to become part of our fellowship. We encourage participation from all church members, but whether you wish to become involved, or simply to come to our Sunday worship, you are very welcome.

---
This site is maintained by Chris Porter. Created: 15 June 1999 [Last updated:04 February 2005]